Source Filmmaker Reborn
June 17, 2015 - SFM Team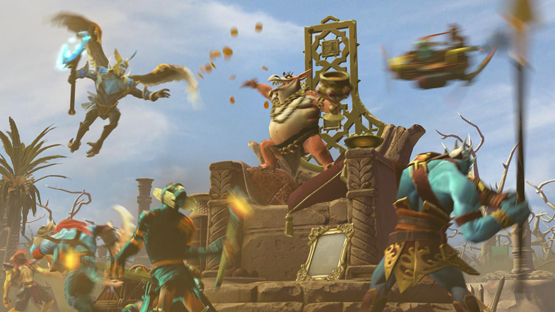 Source Filmmaker is being reborn in the Dota universe! The new SFM will be included in the Dota 2 Reborn Beta, and will work natively with Dota 2 and Dota's custom games. This includes recording gameplay, new Dota-specific features, and integration with the new Source 2 engine and all the latest tools. We're incredibly excited to make creating Dota movies much easier, and are looking forward to both growing the SFM community with folks from the Dota 2 workshop community, as well as expanding the choices for the existing community!
While there are a bunch of exciting new features in the new engine, new tools, and the new SFM, there will also be some missing features as well. Check out the wiki to see all the differences that are coming with the Dota 2 SFM. Since this is a beta, you should expect less polish and more bugs for the time being, but you can also expect a more frequent update cycle than the SFM has seen recently. The new SFM is 64-bit only, so while it will allow you to create longer movies and more intricate worlds, it will also require a 64-bit version of Windows to run.
For those of you who live and love Team Fortress 2, don't worry - the standalone SFM you know and love isn't going away, and it's still the best place to create shorts in the Team Fortress universe. It will also continue to have the workshop with the greatest variety of contributions, and remain the best place to create shorts in all the other universes we've released DLC packs for - including Day Of Defeat, Blade Symphony, Portal, Black Mesa, Left 4 Dead, Dino D-Day, and The Stanley Parable.
So get back to making movies - and while you're waiting for your renders to complete, download the new Dota 2 Reborn beta, and check out what's new in the SFM Reborn!

The SFM Blog
Here we'll be sharing news, tips and tricks about all things relating to our storytelling tool, the Source Filmmaker. Because it's the tool we use here at Valve to create our own movies, we will be adding features as we need them and then sharing them with everyone through Steam. You can join our official Steam Group to stay up-to-date with all the latest SFM news.
Showcase
Watch videos made by Valve
Community
Interact with fellow filmmakers
Tutorials
Learn how to use the tool
FAQ
Get answers to common questions
Wiki
Expand your technical knowledge
Contact the SFM Team at: sfmteam@valvesoftware.com

Submit bugs at: sfmbugs@valvesoftware.com

Work at Valve:
valvesoftware.com/jobs