Announcing the 2014 Saxxy Awards Nominees!
September 30, 2014 - SFM Team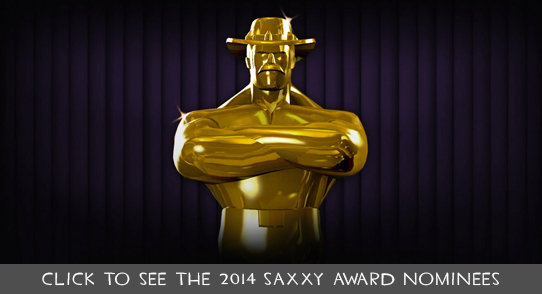 We laughed. We cheered. We cried. Some of us wouldn't stop crying, and it got awkward. Then we laughed and cheered again.
We say this every year, but we were blown away at the quality and inventiveness of this year's entries. And now we're proud to present the absolute best of best from the 2014 Saxxy Awards. Check out the nominees here.
Of course, as with any contest, not everyone can win. But that doesn't mean they aren't worthy of recognition. Below, some fantastic entries that just barely missed the cut:
Best Late Entry
"Defuse on The Fly"
Best Five-Minutes-Exactly Piece
"Wanted Warehouse"
Best Original Character
"Cubey"
Best Crossover
"The C4 Courier"
Best Tackling of a Serious Subject
"Behind the Mask"

The SFM Blog
Here we'll be sharing news, tips and tricks about all things relating to our storytelling tool, the Source Filmmaker. Because it's the tool we use here at Valve to create our own movies, we will be adding features as we need them and then sharing them with everyone through Steam. You can join our official Steam Group to stay up-to-date with all the latest SFM news.
Showcase
Watch videos made by Valve
Community
Interact with fellow filmmakers
Tutorials
Learn how to use the tool
FAQ
Get answers to common questions
Wiki
Expand your technical knowledge
Contact the SFM Team at: sfmteam@valvesoftware.com

Submit bugs at: sfmbugs@valvesoftware.com

Work at Valve:
valvesoftware.com/jobs