The Fifth Annual Saxxy Awards!
August 21, 2015 - SFM Team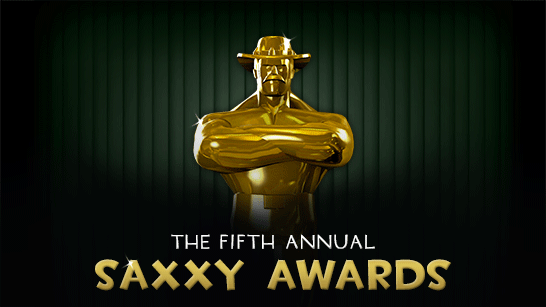 It's our favorite time of year again! It's time to announce this year's Saxxy Awards, and lay out the rules and deadlines for submissions. We're especially excited to find out how the mix of universes for entries this year is affected by both the release of the SFM within the Dota 2 Reborn Beta and the Dota 2 Short Film Contest.
We're mixing up the categories again this year, to encourage more of you to submit entries. (and encourage the overachievers among you to submit more entries!) The Action, Comedy and Drama categories are all changing to have a 3 minute limit, and there will be a new Extended category that has the 5 minute limit from prior years. We believe that there are a great many stories to be told in the new 3 minute format, and we hope to see more of them by adding categories in the gap that existed between 1 and 5 minutes.
On a more technical note, we're also changing the way that submissions are uploaded, so you upload your entries directly to YouTube, and add them to your Steam profile, instead of uploading through the SFM. The submission deadline is November 11th, but once again, we'd like to remind you that you can upload non-final versions up to a week in advance of the final deadline, to guard against last-minute computer failures, internet outages, YouTube login problems, etc. Check the guidelines for details on the rules and deadlines, and get your entries ready!

The SFM Blog
Here we'll be sharing news, tips and tricks about all things relating to our storytelling tool, the Source Filmmaker. Because it's the tool we use here at Valve to create our own movies, we will be adding features as we need them and then sharing them with everyone through Steam. You can join our official Steam Group to stay up-to-date with all the latest SFM news.
Showcase
Watch videos made by Valve
Community
Interact with fellow filmmakers
Tutorials
Learn how to use the tool
FAQ
Get answers to common questions
Wiki
Expand your technical knowledge
Contact the SFM Team at: sfmteam@valvesoftware.com

Submit bugs at: sfmbugs@valvesoftware.com

Work at Valve:
valvesoftware.com/jobs